Want to get out of Tokyo`s fast lane and try something totally new? Experience being in a Jade Carving Studio for a day. Be creative and design your own special jade treasure. Gordon Wells a jade carver and jade sculptor with over 38 years experience will put your special design into jade while you watch. Then later you will do all the hand finishing work transforming your design into your own work of art which will last forever...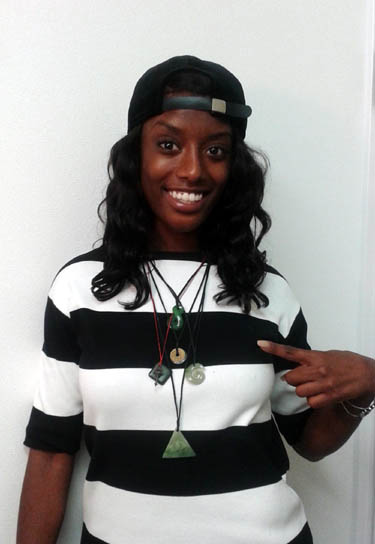 Ashley D Burgess model / actor from USA with Jade Carvings
Greenstone Experience ...
Don't have allot of time then the Greenstone Experience is for you. Prices range from ¥13,000 〜 ¥17,000 using some of New Zealands traditional
Basic Designs
. Teardrop Pendants, Toki, Koru, Fish Hook, Whales Tail, Circle of Life, or your own
Simple Designs
can be created and finished in a few hours. The finished NZ Jade Carving will be yours to wear for a lifetime.
Jade Experience
The Jade Experience includes jade and materials and prices are from ¥18,000 〜 ¥40,000 depending on your
design
. Eternity Pendants, Double & Tripple Twists, Manaias, Complex Fish Hooks, Traditional NZ Designs, or a your own
complex
design can be arranged. The Jade Experience will take a full day to complete, by the end of the day you will have a beautiful wearable jade carving to wear everyday....


Book a Workshop


Jade Sculpture Experience
The Jade Sculpture Experience is for those who would like a very special Complex Sculpture created. Prices are quoted on the complexity of design and the quality of jade. If you have the plenty of time, a couple of days or more, and lots of Japanese Yen just about anything can be arranged in NZ jade. A beautifully carved and finished NZ jade sculpture will be yours to display and admire and talk about for years to come...
How the Workshop works
At the Just Jade Experience you get to be creative by first putting your ideas on paper having hands on involvement designing your own special design. Once your design has been arranged, and been certified as Ok then Gordon will do the difficult carving process for you carefully carving your ideas into stone. This can take anything from 15 minutes to 2 or more hours depending on complexity of your design. When the carving process is completed, then you will be shown how to finish your roughed out design. This process will take about 2 to 4 hours or longer depending on complexity of your design. The carving is firstly worked with a silicon carbide rub stone until all tooling marks are removed. Then you are guided through a polishing process of sandpaper's starting from 150, 240, 360, 600, 1200, and 2000 finishing paper. Eventually your creation is ready for the final polishing with Gordon's Special Magic Powder, a mixture of Tin Oxide & Crystalite-A polishing abrasive which will make your Jade shine and glisten. Then Gordon will rope up and perform the special handing over ownership ceremony. Finally now you own a specially designed jade treasure that you have put a lot of your spirit, feelings and work into.