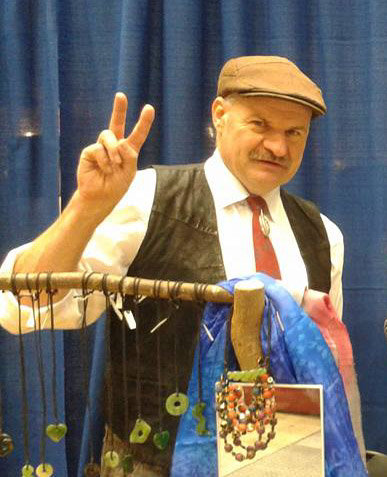 Gordon - Design Festa Tokyo
The special places Gordon likes are the mountains and the bush, lakes and rivers, sand and sea, He will disappear into them at every opportunity for peace and quiet. Gordon also loves getting on big jets and flying off to distant lands and exploring the many different cultures and history esp ancient jade carvings and the peoples who worked and sculptored stone.
Gordon grew up on the West Coast of the South Island New Zealand in a farming valley named Kowhitirangi which has the Southern Alps as a beautiful backdrop.
Gordon began his jade carving career at age 16 yrs in December 1978, after his art teacher Mrs Alison Sanson sugguested he try jade carving as a job choice during the school holidays, she arranged the job at West Coast Jade Ltd. Mrs Sanson stated If Gordon didn't like the job he could always return to Westland High School and study English so he could pass School Certificate. Well Gordon liked working with jade and he dropped out of school and continued working for West Coast Jade Company in Hokitika until the factory and shop closed down in about 1984.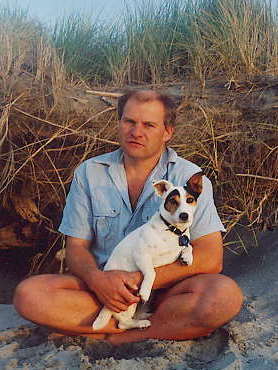 Gordon & Mindy - Hokitika 1995
Since that time Gordon has worked at many different jobs, from working on sheep and dairy farms to rock quarry work driving 20 ton excavators or diggers and breaking up rock, from a retail furniture store delivery and salesperson to life insurance selling.
In 1987 Gordon started carving from his own studio in the garage part time, while still working at his day job. Gordon set up his first outlet at Willow Crafts Gallery in Hari Hari South Westland and he still sell carvings there today.
In 1994 Gordon joined the Hokitika Co-operative Craft Gallery, by this time he was carving full time and selling in shops all over New Zealand.
Around June 1996 Gordon diversified and created a new venture, combining jade carving, a backpackers hostel and a jade carving experience for backpacker tourists.
By 2002 Gordon had learned computers and started building his own websites and selling his jade carvings and sculptures to the world online.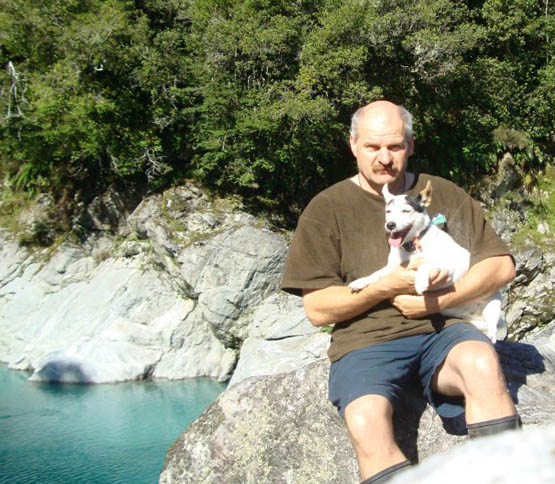 Gordon & Mindy - Hokitika Gorge NZ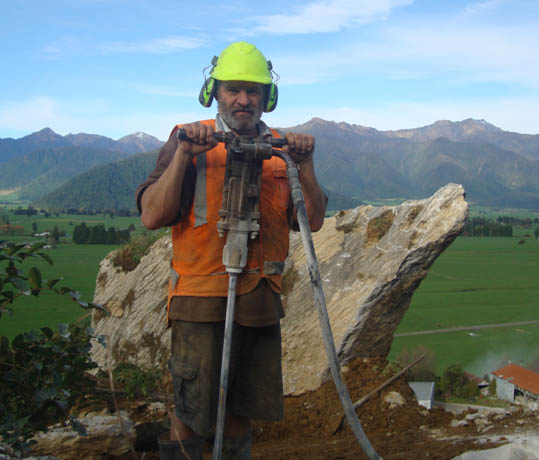 Gordon working a Jackhammer